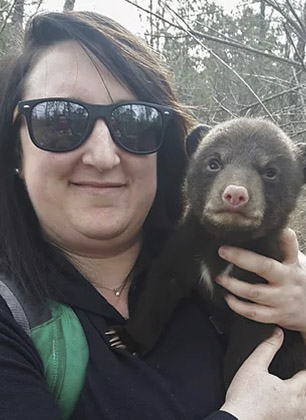 Melanie R. Boudreau
Title: Postdoctoral Associate
Email: mel.r.boudreau@gmail.com
Dr. Melanie Boudreau is an applied ecologist whose work focuses on spatial animal ecology. In particular, her postdoctoral work has focused on projects which examine the link between landscapes and spatial patterns in animal movement and/or distribution.
Born and raised in New Brunswick, Canada, Melanie's MSc research focused on predator-community dynamics in Atlantic intertidal ecosystems in the Bay of Fundy. During her PhD, she worked on understanding the way in which predators indirectly impact their prey through study of the iconic Canadian hare-lynx population cycles and spent much of that time working in the beautiful Kluane region of the Yukon. From this fundamental ecological foundation, her postdoctoral work now focuses on creating a variety of applied spatial products for collaborators from various state or federal agencies, on taxa ranging from waterfowl to black bears, all of which can help guide decision-making and management.
Melanie also loves participating in public outreach opportunities, such as the Skype a Scientist program (https://www.skypeascientist.com/), is heavily involved in student mentorship at Mississippi State, and is a strong advocate for mental health in academia and Women in STEM.
For more information visit: https://melanieboudreau.wixsite.com/research or follow her on Twitter @MelRBoudreau
Personal Link: https://melanieboudreau.wixsite.com/research